All about Doug and Madalyn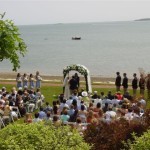 Doug & Madalyn are available for Cape Cod Weddings, Rehearsal Dinners, Milestone Birthdays & Anniversaries, Corporate and Private Parties.
They have over 17 years of experience as Wedding DJs
Musical Strengths – Classic rock and party songs, as well as current dance hits.
Who they ARE – As a popular and successful Cape Cod DJ couple, Doug and Madalyn take a tasteful approach at your wedding. Happily married for more than 17 years, their love of music and people shines through at every reception.
They take the time necessary to get to know you and the mood you want to create. Every wedding is important to them, no matter how large or small, and you will receive their extra special attention to every detail. They are also open to playing your favorites, and honoring your Do Not Play list.
They are experts at creating an elegant atmosphere for your cocktail and dinner reception. You can be assured that your guests will love their selection of music for all generations. And, when it comes time to dance, you can also be sure that they will hit all the right notes to get your guests out on the dance floor.
Who they are NOT – While they are happy to make formal introductions and other announcements, they do so WITHOUT creating a circus atmosphere.
You will NOT see them leading your guests in the Electric Slide or other line dances.
You can rest assured they will NEVER resort to any gimmicks to get you or your guests out onto the dance floor but rather prefer to let the music "speak" for itself. Nothing cheesy.
Below are some wonderful words couples have passed along to them:
"We wanted to tell you how much we appreciated your great service at our wedding on Sept. 30.
We couldn't have imagined anything more perfect or planned the music any better. We had hoped for a wedding with great music and one in which many people got up to dance, and that is exactly what happened! We didn't want to stop dancing!  Thank you so much for working with us — we really appreciated your flexibility with the ceremony music as well. We really think our guests made their sentiments known when they yelled "Encore!" at the end of the last song."
Julie and Mark – Wequassett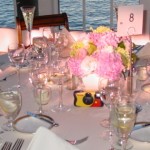 "Dear Doug and Madalyn,
Thank you so much for making our wedding so special. Everyone has commented on how great the music was. I have told everyone about you both so that if they have weddings coming up, they know who to go to.
Thank you again, we are forever grateful!!"
Judy & Bill – The Lighthouse Inn
"Dear Doug and Madalyn,
We just wanted to thank you once again for the tremendous job you did at our wedding. Everyone really enjoyed themselves, and the music was absolutely outstanding. Thank you for creating the perfect atmosphere.
It was lovely having met the both of you, and I'm happy to recommend you to anyone."
Elizabeth and Masayuki – Chatham Bars Inn